Juhtmeta võrgu kontroller
23. Apr '15
Sissejuhatus
Käesolevas näites ehitame keskse DHCP serveriga juhtmeta võrgu kasutades Debian masinat ning TP-Link WDR4300 marsruutereid:
Pädeva juhtmeta võrgu ehitamiseks on vaja:
5GHz tuge, et pakkuda paremat läbilaskevõimet uutele nutiseadmetele

2.4GHz tuge et olla tagurpidi ühilduv vanemate seadmetega

Paigaldada ligipääsupunkt igasse ruumi kuna 5GHz levib märgatavalt vähem kui 2.4GHz

Piirata ribalaiust 20MHz peale 2.4GHz sagedusel

Pakkuda 802.11n tuge kindlasti 5GHz sagedusvahemikel

Pakkuda kiirusepiirangutega krüpteerimata võrku külalistele ning ...

Pakkuda privilegeeritud krüpteeritud WPA2 või isikulise autentimisega (RADIUS) võrku

Viimase kahe punkti täitmiseks on vaja kas mitut raadiot seadmes või multi-SSID tuge

POE tuge või vähemalt pädevat pingestabilisaatorit seadmes
Käesolevas kirjatükis püüan välja tuua variandi mis peaks rahuldama äriklassi vajadusi kui ka olema taskukohane, nimelt WDR4300 ruutereid müüakse 54 EUR tükk. Keskse lüüsina kasutatavaks masinaks sobib suvaline vähegi korralikum PC raud kuhu sisse peab pistma lihtsalt kaks gigabitist võrguliidest. Vaja on vaid ettevõtlikkust ja taipu.
TP-Link WDR4300 näol on tegu kallimaotsa koduse ruuteriga, mille südameks on Atherose toodetud MIPS protsessor, mille külge on ühendatud Qualcomm Atheros AR934x raadio kasutamiseks sagedusel 2.4GHz ning teine Qualcomm Atheros AR9580 raadio, mis istub PCI Express siinil, see on mõeldud 5GHz jaoks. TP-Link WDR4300 toiteplokk on disainitud 12V jaoks, kuid testimise käigus on selgunud et ruuter töötab stabiilselt ka 5V peal.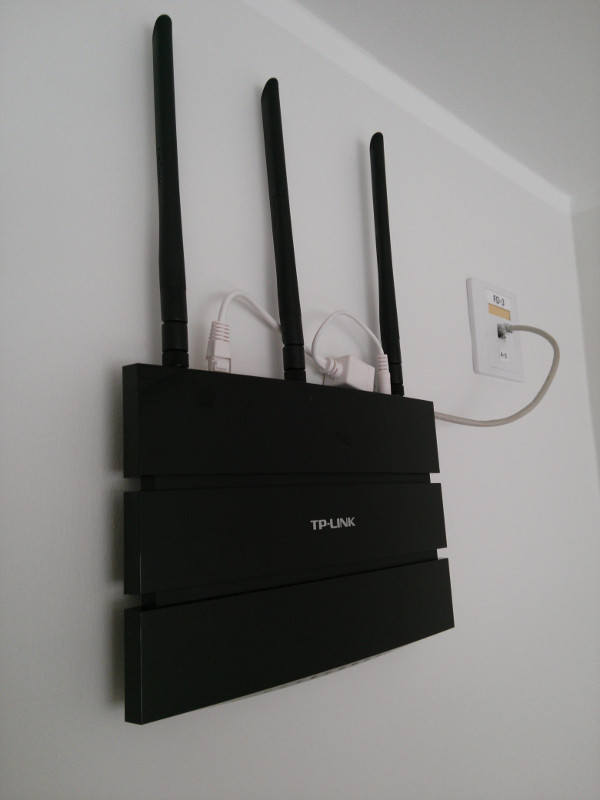 Tehasest tulnud WDR4300 on läbi mõeldud alglaaduriga. Hoides all reset nuppu ning ruuterit sisselülitades võtab ruuter ajutiselt omale IP aadressiks 192.168.0.86 ning küsib üle TFTP faili nimega wdr4300v1_tp_recovery.bin IP-lt 192.168.0.66. See funktsionaalsus on ilmselt turvakaalutlustel kasutatav ainult LAN pesadel (1 kuni 4).
Debiani seadistused
Paigalda keskse lüüsina kasutatavasse masinasse Debian ning pane see võrke marsruutima, DHCP serverit ja DNS puhvrit mängima.
Lisaks paigalda VLAN-idega majandamise vahendid:
sudo apt-get install vlan
Lähtesta /etc/network/interfaces:
# Loopback device
auto lo
interface lo inet loopback

# Upstream connection
auto eth0
iface eth0 inet dhcp

# Wired network
auto eth1 inet static
iface eth1 inet static
    address 10.55.0.254
    netmask 255.255.255.0
Parooliga kaitstud juhtmeta võrgu liides failis /etc/network/interfaces.d/private:
# VLAN for WPA protected AP-s
auto eth1.3
iface eth1.3 inet static
    address 10.55.3.254
    netmask 255.255.255.0
Külaliste võrguliides failis /etc/network/interfaces.d/public:
# VLAN for guest AP-s
auto eth1.4
iface eth1.4 inet static
    address 10.55.4.254
    netmask 255.255.255.0
TP-Link WDR4300 püsivara üle laskmiseks lisa ka /etc/network/interfaces.d/flashing:
# Network for Flashing devices
auto eth1.2
iface eth1.2
    address 192.168.0.66
    netmask 255.255.255.0
Marsruuteri tõmmise ettevalmistamine
Laadi alla OpenWrt image builder ning paki see lahti:
wget https://downloads.openwrt.org/barrier_breaker/14.07/ar71xx/generic/OpenWrt-ImageBuilder-ar71xx_generic-for-linux-x86_64.tar.bz2
tar xvjf OpenWrt-ImageBuilder-ar71xx_generic-for-linux-x86_64.tar.bz2
Tee kataloog OpenWrt tõmmise failide jaoks:
mkdir -p overlay/etc/
Sinna sisse loo fail overlay/etc/rc.local:
# Grab MAC address of second PHY, that's also the MAC written on the router


MAC

=

"

$(

cat /sys/devices/pci0000:00/0000:00:00.0/ieee80211/phy1/macaddress

)

"




SOURCE

=

"rsync://192.168.0.66:/

$MAC

/"




TARGET

=

"/etc/"





# Reboot if there were changes


if

 

[

 -n 

"

$(

rsync -ricppgo 

$SOURCE

 

$TARGET

)

"

 

]

;

 

then


    

echo

 

"There were configuration changes, rebooting"


    reboot


fi




exit

 

0
Ning muuda see käivitatavaks:
chmod +x overlay/etc/rc.local
Viimase sammuna lase tõmmise generaatoril fail valmis küpsetada:
make image 

\


    

PROFILE

=

TLWDR4300 

\


    

FILES

=

"overlay/"

 

\


    

PACKAGES

=

"luci luci-app-qos luci-app-firewall luci-app-commands \
        rsync htop iftop tcpdump nmap nano -dnsmasq -odhcpd -telnetd"
Tõmmise serveerimine
Paigalda TFTP server:
apt-get install atftpd
apt-get remove openbsd-inetd
Liiguta tõmmis TFTP serveri juurikasse:
sudo cp 

\


    bin/ar71xx/openwrt-ar71xx-generic-tl-wdr4300-v1-squashfs-factory.bin 

\


    /srv/tftp/wdr4300v1_tp_recovery.bin
Seadista TFTP serverit failis /etc/default/atftp:
USE_INETD

=

false




OPTIONS

=

"--port 69 --bind-address 192.168.0.66 --tftpd-timeout 300 --retry-timeout 5 --maxthread 100 --verbose=5 /srv/tftp"
Taaskäivita TFTP server:
service atftpd restart
Marsruuterite seadistamine
Debiani masinas paigalda rsync ruuteritele seadistuste jagamiseks:
apt-get install rsync
Luba rsync deemonina failis /etc/default/rsync:
RSYNC_ENABLE

=

true
Loo võrgu seadistuste jaoks fail /etc/wireless.yml:
timezone

:

 

'EET-2EEST,M3.5.0/3,M10.5.0/4'




password

:

 

'hotspotiadminniparool'





networks

:


    

public

:


        

ssid

:

 

'UbinitsaAvalik'


    

protected

:


        

ssid

:

 

'Ubinitsa'


        

key

:

 

'salakala'





nodes

:


    

aula

:


        

model

:

 

wdr4300


        

mac

:

 

"14:cc:20:12:34:56"


        

cha

:

 

149


        

chb

:

 

3


    

ruum102

:


        

model

:

 

wdr4300


        

mac

:

 

"14:cc:20:12:34:57"


        

cha

:

 

157


        

chb

:

 

1


    

ruum103

:


        

model

:

 

wdr4300


        

mac

:

 

"14:cc:20:12:34:58"


        

cha

:

 

36


        

chb

:

 

6


    

ruum201

:


        

model

:

 

wdr4300


        

mac

:

 

"14:cc:20:12:34:59"


        

cha

:

 

44


        

chb

:

 

11


    

ruum202

:


        

model

:

 

wdr4300


        

mac

:

 

"14:cc:20:12:34:60"


        

cha

:

 

157


        

chb

:

 

1


    

ruum204

:


        

model

:

 

wdr3400


        

mac

:

 

"14:cc:20:12:34:61"


        

cha

:

 

149


        

chb

:

 

3


    

psyhholoog

:


        

model

:

 

wdr3400


        

mac

:

 

"14:cc:20:12:34:62"


        

cha

:

 

36


        

chb

:

 

6


    

ruum301

:


        

model

:

 

wdr3400


        

mac

:

 

"14:cc:20:12:34:63"


        

cha

:

 

157


        

chb

:

 

1


    

ruum304

:


        

model

:

 

wdr3400


        

mac

:

 

"14:cc:20:12:34:64"


        

cha

:

 

149


        

chb

:

 

3


    

ruum309

:


        

model

:

 

wdr3400


        

mac

:

 

"14:cc:20:12:34:65"


        

cha

:

 

36


        

chb

:

 

6


    

ruum321

:


        

model

:

 

wdr3400


        

mac

:

 

"14:cc:20:12:34:66"


        

cha

:

 

44


        

chb

:

 

9


    

raamatukogu

:


        

model

:

 

wdr3400


        

mac

:

 

"14:cc:20:12:34:67"


        

cha

:

 

44


        

chb

:

 

9
Pista järgnev Pythoni skript /usr/bin/wireless-config-generate alla:
#!/usr/bin/python3





import

 

yaml




import

 

os




import

 

random




import

 

string




import

 

crypt





WDR4300_NETWORK

 

=

 

"""# Automatically generated, don't modify

config interface 'loopback'
    option ifname 'lo'
    option proto 'static'
    option ipaddr '127.0.0.1'
    option netmask '255.0.0.0'

config interface 'protected'
    option ifname 'eth0.3'
    option type 'bridge'
    option proto 'dhcp'

config interface 'public'
    option ifname 'eth0.4'
    option type 'bridge'
    option proto 'dhcp'

config switch
    option reset '1'
    option enable_vlan '1'
    option enable_learning '0'
    option enable_vlan4k '1'
    option name 'switch0'

# Protected wifi
config switch_vlan
    option vlan '3'
    option ports '0t 1t 2t 3t 4t 5t'
    option device 'switch0'

# Public wifi
config switch_vlan
    option vlan '4'
    option ports '0t 1t 2t 3t 4t 5t'
    option device 'switch0'
"""





SHADOW

 

=

 

"""# Automatically generated, don't modify
root:

%s

:16301:0:99999:7:::
daemon:*:0:0:99999:7:::
ftp:*:0:0:99999:7:::
network:*:0:0:99999:7:::
nobody:*:0:0:99999:7:::
"""





WDR4300_SYSTEM

 

=

 

"""# Automatically generated, don't modify

config system
        option hostname '

%(HOSTNAME)s

'
        option timezone '

%(TIMEZONE)s

'

config timeserver 'ntp'
        list server '0.openwrt.pool.ntp.org'
        list server '1.openwrt.pool.ntp.org'
        list server '2.openwrt.pool.ntp.org'
        list server '3.openwrt.pool.ntp.org'
        option enabled '1'
        option enable_server '0'

config led 'led_usb1'
        option name 'USB1'
        option sysfs 'tp-link:green:usb1'
        option trigger 'usbdev'
        option dev '1-1.1'
        option interval '50'

config led 'led_usb2'
        option name 'USB2'
        option sysfs 'tp-link:green:usb2'
        option trigger 'usbdev'
        option dev '1-1.2'
        option interval '50'

config led 'led_wlan2g'
        option name 'WLAN2G'
        option sysfs 'tp-link:blue:wlan2g'
        option trigger 'phy0tpt'
"""





WDR4300_WIRELESS

 

=

 

"""# Automatically generated, don't modify

config wifi-device radio0
    option type mac80211
    option channel 

%(CHANNEL_B)s


    option hwmode 11g
    option htmode HT20
    option path 'platform/ar934x_wmac'

config wifi-iface
    option device radio0
    option network 'protected'
    option mode ap
    option encryption psk2
    option ssid '

%(PROTECTED_SSID)s

'
    option key '

%(PROTECTED_KEY)s

'

config wifi-iface
    option device radio0
    option network 'public'
    option mode ap
    option encryption none
    option ssid '

%(PUBLIC_SSID)s

'

config wifi-device radio1
    option path 'pci0000:00/0000:00:00.0'
    option type mac80211
    option channel 

%(CHANNEL_A)s


    option hwmode 11na
    option htmode HT40+
    list ht_capab LDPC
    list ht_capab SHORT-GI-20
    list ht_capab SHORT-GI-40
    list ht_capab TX-STBC
    list ht_capab RX-STBC1
    list ht_capab DSSS_CCK-40

config wifi-iface
    option device radio1
    option network 'protected'
    option mode ap
    option encryption psk2
    option ssid '

%(PROTECTED_SSID)s

'
    option key '

%(PROTECTED_KEY)s

'

config wifi-iface
    option device radio1
    option network 'public'
    option mode ap
    option encryption none
    option ssid '

%(PUBLIC_SSID)s

'
"""





WDR4300_RC_LOCAL

 

=

 

"""# Automatically generated, don't modify
/etc/rc.update
exit 0
"""





WDR4300_CONFIG_SYNC

 

=

 

"""# Automatically generated, don't modify

MAC="$(cat /sys/devices/pci0000:00/0000:00:00.0/ieee80211/phy1/macaddress)"
SOURCE="rsync://10.55.3.253:/$MAC/"
TARGET="/etc/"

# Reboot if there were changes
if [ -n "$(rsync -ricppgo $SOURCE $TARGET)" ]; then
    echo "There were configuration changes, rebooting"
    reboot
fi
"""





RSYNCD_CONF_HEADER

 

=

 

"""# Automatically generated, don't modify
uid = nobody
gid = nogroup
log file = /var/log/rsyncd.log
use chroot = true
read only = yes
list = no
"""





if

 

not

 

os

.

path

.

exists

(

"/root/.ssh"

):


    

os

.

makedirs

(

"/root/.ssh"

)




if

 

not

 

os

.

path

.

exists

(

"/root/.ssh/id_rsa"

):


    

os

.

system

(

"ssh-keygen -t rsa -f /root/.ssh/id_rsa -P ''"

)





print

(

"Generating configuration for AP-s in /srv/rsyncd"

)





with

 

open

(

"/etc/wireless.yml"

)

 

as

 

fh

:


  

with

 

open

(

"/etc/rsyncd.conf"

,

 

"w"

)

 

as

 

rh

:


    

rh

.

write

(

RSYNCD_CONF_HEADER

)



    

g

 

=

 

yaml

.

load

(

fh

)



    

salt

 

=

 

''

.

join

([

random

.

choice

(

string

.

ascii_letters

+

string

.

digits

)

 

for

 

_

 

in

 

range

(

8

)])


    

root_hash

 

=

 

crypt

.

crypt

(

g

[

"password"

],

 

"$1$"

 

+

 

salt

)



    

for

 

node

,

 

attribs

 

in

 

g

[

"nodes"

]

.

items

():


        

rh

.

write

(

"[

%(mac)s

]

\n

path=/srv/rsyncd/

%(mac)s

\n\n

"

 

%

 

attribs

)


        

print

(

"Processing AP"

,

 

node

,

 

"("

 

+

 

attribs

[

"mac"

]

 

+

 

")"

)


        

etc

 

=

 

os

.

path

.

join

(

"/srv/rsyncd/"

,

 

attribs

[

"mac"

])


        

for

 

subdir

 

in

 

(

"dropbear"

,

 

"config"

):


            

if

 

not

 

os

.

path

.

exists

(

os

.

path

.

join

(

etc

,

 

subdir

)):


                

os

.

makedirs

(

os

.

path

.

join

(

etc

,

 

subdir

))


        

ENV

 

=

 

dict

(


            

HOSTNAME

=

node

,


            

TIMEZONE

=

g

.

get

(

"timezone"

,

 

"UTC"

),


            

CHANNEL_A

=

attribs

.

get

(

"cha"

),


            

CHANNEL_B

=

attribs

.

get

(

"chb"

),


            

PUBLIC_SSID

=

g

[

"networks"

][

"public"

][

"ssid"

],


            

PROTECTED_SSID

=

g

[

"networks"

][

"protected"

][

"ssid"

],


            

PROTECTED_KEY

=

g

[

"networks"

][

"protected"

][

"key"

])


        

with

 

open

(

os

.

path

.

join

(

etc

,

 

"config"

,

 

"wireless"

),

 

"w"

)

 

as

 

fh

:


            

fh

.

write

(

WDR4300_WIRELESS

 

%

 

ENV

)


        

with

 

open

(

os

.

path

.

join

(

etc

,

 

"config"

,

 

"system"

),

 

"w"

)

 

as

 

fh

:


            

fh

.

write

(

WDR4300_SYSTEM

 

%

 

ENV

)


        

with

 

open

(

os

.

path

.

join

(

etc

,

 

"shadow"

),

 

"w"

)

 

as

 

fh

:


            

fh

.

write

(

SHADOW

 

%

 

root_hash

)


        

with

 

open

(

os

.

path

.

join

(

etc

,

 

"config"

,

 

"network"

),

 

"w"

)

 

as

 

fh

:


            

fh

.

write

(

WDR4300_NETWORK

)


        

with

 

open

(

os

.

path

.

join

(

etc

,

 

"rc.local"

),

 

"w"

)

 

as

 

fh

:


            

fh

.

write

(

WDR4300_RC_LOCAL

)


            

os

.

chmod

(

os

.

path

.

join

(

etc

,

 

"rc.local"

),

 

0

o755

)


        

with

 

open

(

os

.

path

.

join

(

etc

,

 

"rc.update"

),

 

"w"

)

 

as

 

fh

:


            

fh

.

write

(

WDR4300_CONFIG_SYNC

)


            

os

.

chmod

(

os

.

path

.

join

(

etc

,

 

"rc.update"

),

 

0

o755

)


        

with

 

open

(

os

.

path

.

join

(

"/root/.ssh/id_rsa.pub"

))

 

as

 

ih

:


            

with

 

open

(

os

.

path

.

join

(

etc

,

 

"dropbear"

,

 

"authorized_keys"

),

 

"w"

)

 

as

 

oh

:


                

oh

.

write

(

ih

.

read

())
Tee skript käivitatavaks:
chmod +x /usr/bin/wireless-config-generate
Ruuterite seadistuste genereerimiseks /srv/rsyncd alla käivita skript:
wireless-config-generate
Taaskäivita rsync teenus:
service rsyncd restart